News
2016 - New company launch: Biography By Design LLC!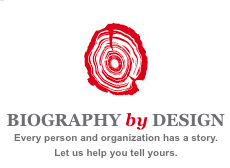 Fellow biographer Abby Santamaria and I started a new company of professional biographers, editors and researchers to help individuals, families, corporations and institutions tell their stories. We've hit some kind of nerve, to judge by the client response as soon as we started. Check out the website for further information...
HOW GREAT BIOGRAPHIES GET MADE AND WHY THEY MATTER: A Tribute to Jonathan Segal. Nov. 4, 2015,
Video of the event,
BIO's 2015 Editorial Excellence Award, co-sponsored by Biographers International Organization and The New York Society Library, held at Temple Israel, NYC, featuring Jon Segal, Carl Bernstein, T.J. Stiles, Paul Hendrickson, Eric Lax, Will Swift and me.
BEFORE THE LEAGUE - Time Warner Cable Sports Channel: Nov. 17-18, 2015:
BEFORE THE LEAGUE
TWC documentary about the foundation of professional football before the NFL. As Jim Thorpe's biographer, I appear frequently. The launch in Canton, OH featured the great Hall of Famer Floyd Little as the moderator of our panel.
2014 - 2015: Steady stream of book reviews, book proposals, blog posts, speeches, presentations, movie DVD tapings, conference panels, radio and television. Expanding the work by applying the tools and skills of biography to the nonprofit sector (think: Value-Added Narrative!). And, editing books, book proposals, plus communications work for an NYC real estate firm.
September 2013 - Knopf published an ebook edition of BURT LANCASTER: AN AMERICAN LIFE (Knopf 2000; DaCapo 2001; Aurum in UK 2000, 2001, 2008). in honor of the centennial of Lancaster's birth in 1913.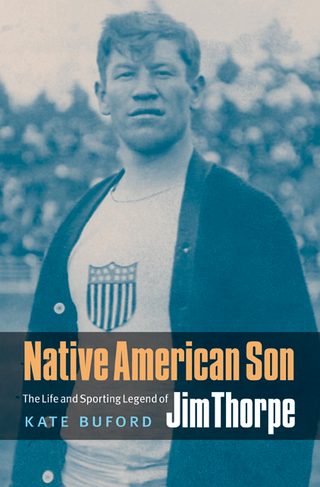 Kate Buford is the author of Native American Son: The Life and Sporting Legend of Jim Thorpe (Knopf 2010), an Editors' Choice of The New York Times. "The definitive biography of a legendary figure in American history, in and out of sports. An essential purchase." - Library Journal. The book won distinguished awards from both the Society for American Baseball Research (SABR) and the Professional Football Research Association (PFRA). The paperback was published March 1, 2012 by the University of Nebraska's Bison Books.

She is also the author of the critically acclaimed and best-selling biography, Burt Lancaster: An American Life (Knopf 2000), an Editors' Choice and Best Book of 2000 for The New York Times, Washington Post, and Los Angeles Times. The paperback edition (Da Capo Press, 2001) was named a "New and Notable Paperback" by the Times. U.K. hardcover and paperback editions were published by Aurum Press, the most recent edition in 2008.

From 1994 to 1999 Buford was a commentator for National Public Radio's "Morning Edition." She is an occasional commentator for American Public Media's "Marketplace" and for WMRA, the NPR affiliate in western Virginia. From 2000 to 2003, she was a vice-president at the corporate communications firm of Finsbury (formerly Robinson Lerer & Montgomery) in New York.

Articles by Buford have appeared in The New York Times, The New York Post, Film Comment, Bluegrass Unlimited and other publications. She has appeared on HBO Real Sports, The Charlie Rose Show, PBS History Detectives, BBC Radio 4's Great Lives, BBC World Service and other TV and radio programs. At the Jacob Burns Film Center in Pleasantville, New York, she has programmed and presented film series on Burt Lancaster, Michael Powell, Katharine Hepburn, War & Film, Horton Foote and others.

Buford graduated from Trinity College, Dublin, and Columbia University. Prior to her writing career, she was the law librarian for Davis Polk & Wardwell and Cravath Swaine & Moore in New York. Born in Santa Monica and brought up in California, Ms. Buford now lives in Charlottesville, Virginia and serves on the boards of Union Settlement Association in East Harlem, New York and of Biographers International Organization.

PRESS & NEWS for Thorpe biography
WASHINGTON POST SUNDAY MAGAZINE, March 18, 2012:
Cover article "Battle over athlete Jim Thorpe's burial site continues," Neely Tucker.
"Buford spent eight years working on her seminal biography, "Native American Son," published in 2010. She says she was moved by Thorpe's generosity, his warmth, his genuine nature and his refusal to act like the egotistical, self-entitled athletes of the modern era. 'He wasn't a complicated man,' she says, 'but what happened to him was.' "
THE NEW YORK TIMES (Editors' Choice): "Buford . . . lays a firm, clear historical groundwork for the reservation life and Indian world in which Thorpe grew up in Oklahoma.... Brims with life in its depiction of Hollywood during the 1930s and '40s.... Through Thorpe's struggles and striving, Buford recreates this period of Los Angeles history in all its glorious strangeness."
Buzz Bissinger: "Superb."
Charlie Pierce: "Fascinating."
David Brinkley: "A terrific biography of Thorpe. Just mesmerizing."
PFRA (Professional Football Researchers Association)
2010 NELSON ROSS AWARD for recent achievement in pro football research and historiography.
Society for American Baseball Research (SABR) 2011 Larry Ritter Award
Finalist 2011 Oklahoma Book Award
Oklahoma Book Award
The Oklahoma Center for the Book (OCB) is a state affiliate of the Center for the Book in the Library of Congress.
WASHINGTON POST - "Buford ... knows about mythic heroes and draws a complex portrait of Jim Thorpe: from his superhuman athletic talents to his all-too-human flaws."
DETROIT METRO TIMES: "Kate Buford's excellent biography ... not only is it the moving story of an early Olympic hero and mythical football great, it also chronicles how the rules of football changed in the 1900s and '10s, becoming less a rugby scrum and more the game we know today."
AMERICAN HERITAGE - "A professional biographer has proved what sound research and skillful writing can do: reveal a singular man, animate the times of his life, and illuminate the complexities of our world today, which Jim Thorpe helped to shape."

LIBRARY JOURNAL - "This is the definitive biography of a legendary figure in American history, in and out of sports. An essential purchase."

KIRKUS REVIEWS - "An impeccably researched biography of one of the world's greatest all-around athletes, a symbol of racial injustice and untapped potential."
HISTORY BOOK CLUB - Featured Selection
"The first comprehensive biography of Jim Thorpe, arguably the greatest all-around athlete the United States has ever seen, Native American Son is a story long overdue. Here is the story of a complex, iconoclastic, profoundly talented man whose life encompassed both tragic limitations and truly extraordinary achievements."
TUCSON CITIZEN - "This book is written with razor sharp clarity, rock solid scholarship, and a prose that is as elegantly executed as it is at times heartbreaking. "Native American Son," meticulously researched, is a book that finally sets the record straight to provide justice at last to a legitimate American icon."
BOOKLIST - "Buford's account . . . brims with detail, all of it relevant to the telling, from the disastrous divvying up of Native American land that young Jim witnessed in 1890s Oklahoma, to Thorpe's stellar performance in football, baseball, and track and field; to the stripping of his Olympic medals because he was paid to play baseball for two summers; and,finally, to the makeshift life he cobbled together after his playing days ended. Buford imparts a sense of the incandescent skills Thorpe applied to his sports, and the discrimination and self-destruction that shadowed him throughout his life."
Featured Selection: BOOK OF THE MONTH CLUB and THE HISTORY BOOK CLUB